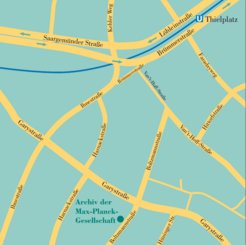 Our archive is located in direct proximity to the Max Planck Institute for the History of Science, the Fritz Haber Institute of the Max Planck Society, the Max Planck Institute for Molecular Genetics, the Max Planck Institute for Human Development, and the Free University of Berlin.
Both the Secret State Archives of the Prussian Cultural Heritage Foundation (2.2 kilometers) and the German Federal Archives (2.8 kilometers) are also not far from our facility.
Upon entering the property, Boltzmannstr. 14, keep straight ahead until you reach the double-winged entrance door. Please just enter and go up the stairs to the green door. There you will find the bell on your left.
Arrival by public transport
Usually the VBB Driving Info service will find the fastest route for you.
Simply enter your starting location in the journey info search:
Driving Info of the BVG (Berlin Transport Company)
The most relevant station in our vicinity is the U Freie Universität Berlin, which is served by the U3 line. From there, it is only about an eight-minute walk along the university's Henry Ford Building to the archive on the right-hand side on Boltzmannstraße.
Arrival by car or bicycle
Most of the time, Google Maps proves to be a confident navigator but you might as well try the service of OpenStreetMap. They collect less data from you while using their website.
There are sufficient parking spaces on the property but also in Boltzmannstraße itself.
There are numerous bicycle stands on the property. If you cycle straight past the entrance, you will also find a covered bicycle stand on your right.